Carbon footprint of Thomas Dane Gallery (London and Naples), 2018/19
As with Kate MacGarry Gallery (KMG), the three top sources of greenhouse gas were business flights, the air freight of artworks and building energy use, which together made up 94% of the footprint of the two TMG galleries.
However, the split between these three elements was quite different for TDG compared with KMG. The biggest element for TDG was international art transport by air, not business flights – and energy use was a much smaller part of the footprint.
Like KMG, a small number of flights made up a large proportion of the emissions. Just fifteen flights (to the US and China) made up 50% of the UK business flights footprint, while three large art shipments (one to Hong Kong and two to LA) made up over 40% of the international transport footprint.
Packaging was, as with KMG, an unexpectedly small part of the footprint.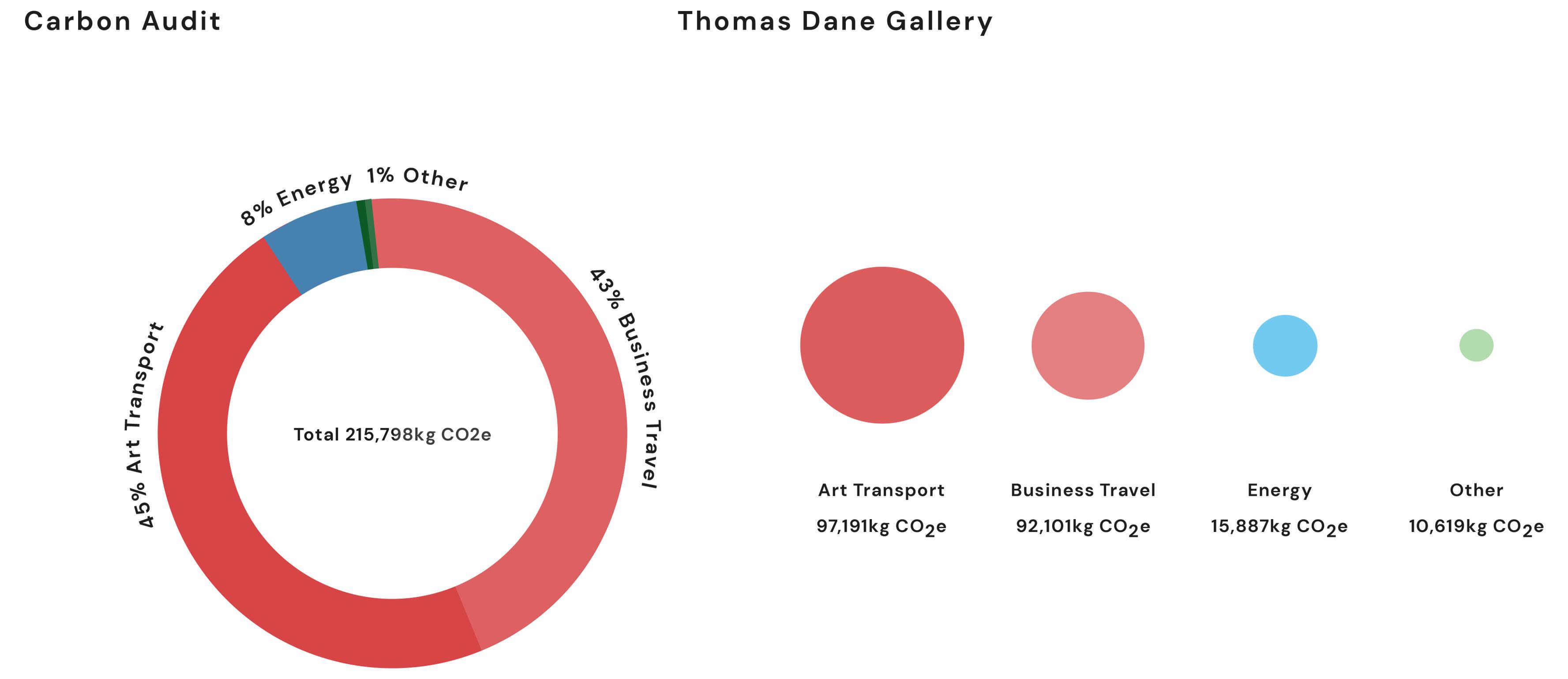 | | | | | |
| --- | --- | --- | --- | --- |
| Detailed Breakdown | London Gallery tCO2e | Naples Gallery tCO2e | Total tCO2e | % 2018/19 Footprint |
| International art transport - air | 132.9 | 8.2 | 141.0 | 55.0% |
| Business travel - flights | 74.5 | 9.9 | 84.4 | 32.9% |
| Electricity use | 9.8 | 6.0 | 15.8 | 6.2% |
| International art transport - road | 3.5 | 0.8 | 4.3 | 1.7% |
| UK art transport | 4.0 | 0 | 4.0 | 1.5% |
| Other international freight - air | 2.8 | 0 | 2.8 | 1.1% |
| Italy art transport | 0 | 1.1 | 1.1 | 0.4% |
| Business travel - car | 0.9 | 0.1 | 1.0 | 0.4% |
| Business travel - rail/bus | 0.9 | 0.03 | 0.9 | 0.4% |
| Paper and printing | 0.7 | 0 | 0.7 | 0.3% |
| Packaging - plastic | 0.4 | 0 | 0.4 | 0.2% |
| Gas use | 0 | 0.1 | 0.1 | <0.1% |
| Other international freight - road | 0.01 | 0 | 0.01 | <0.1% |
| Packaging - card/paper | 0.01 | 0 | 0.01 | <0.1% |
| TOTAL | 230.3 | 26.2 | 256.5 | 100% |