TRAVEL
International air travel is one of the largest contributors to a gallery's carbon footprint. Business Travel took up 44.5% of a London gallery's carbon emissions from autumn 2018 to 2019, with 10,648 kg

CO

2e in a recent audit.
Flying is the single most carbon-polluting action that an individual is likely to do, as it puts a very large amount of greenhouse gas into the air in a very short space of time. It would take the average UK resident a month and a half of their usual routine (travel, energy use, shopping, etc.) to produce the same emissions as one return flight from London to New York.

Ultimately, flying is a luxury activity, and attitudes towards flying should be reassessed, with a shift towards only the most crucial and worthwhile journeys being made. Finding alternatives to flying is a positive step in reducing carbon footprint and there are obvious economic benefits to reducing travel overall.
On average, economy flights have 4-5 times less emissions then travelling first class

To decrease carbon footprints by 50% by 2030, both long haul and short haul flying habits need to be analysed and journeys reduced.

It is important to note that, while long-term flights produce more absolute carbon, short haul flights have a greater relative impact as they spend less time at cruising altitude and the biggest moment of carbon expenditure is at take-off.
Globally, flights are still the preserve of a tiny wealthy minority. Exact figures are hard to determine, but some estimates suggest that in any given year no more than about 10% of the global population sets foot on an airplane.
AIR TRAVEL
Air travel is a ubiquitous aspect of the modern world. However, flying is also an inherently damaging activity and with no commercially viable green alternatives to the airline industry coming within the foreseeable future it is a luxury which needs to be urgently assessed. The following examples clearly highlight the scale of this environmental crisis.



Carbon emission figures can be gathered via GCC carbon calculator
WHEN YOU DO HAVE TO TRAVEL
Fly economy
A substantial difference to the carbon footprint of a flight can be made by choosing to fly economy, rather than business, first class or premium economy. For example, flying first class on BA results in a footprint that is approximately 5.5 times larger than that of an economy passenger. A business seat is 3.5 times larger than the carbon footprint of the economy option.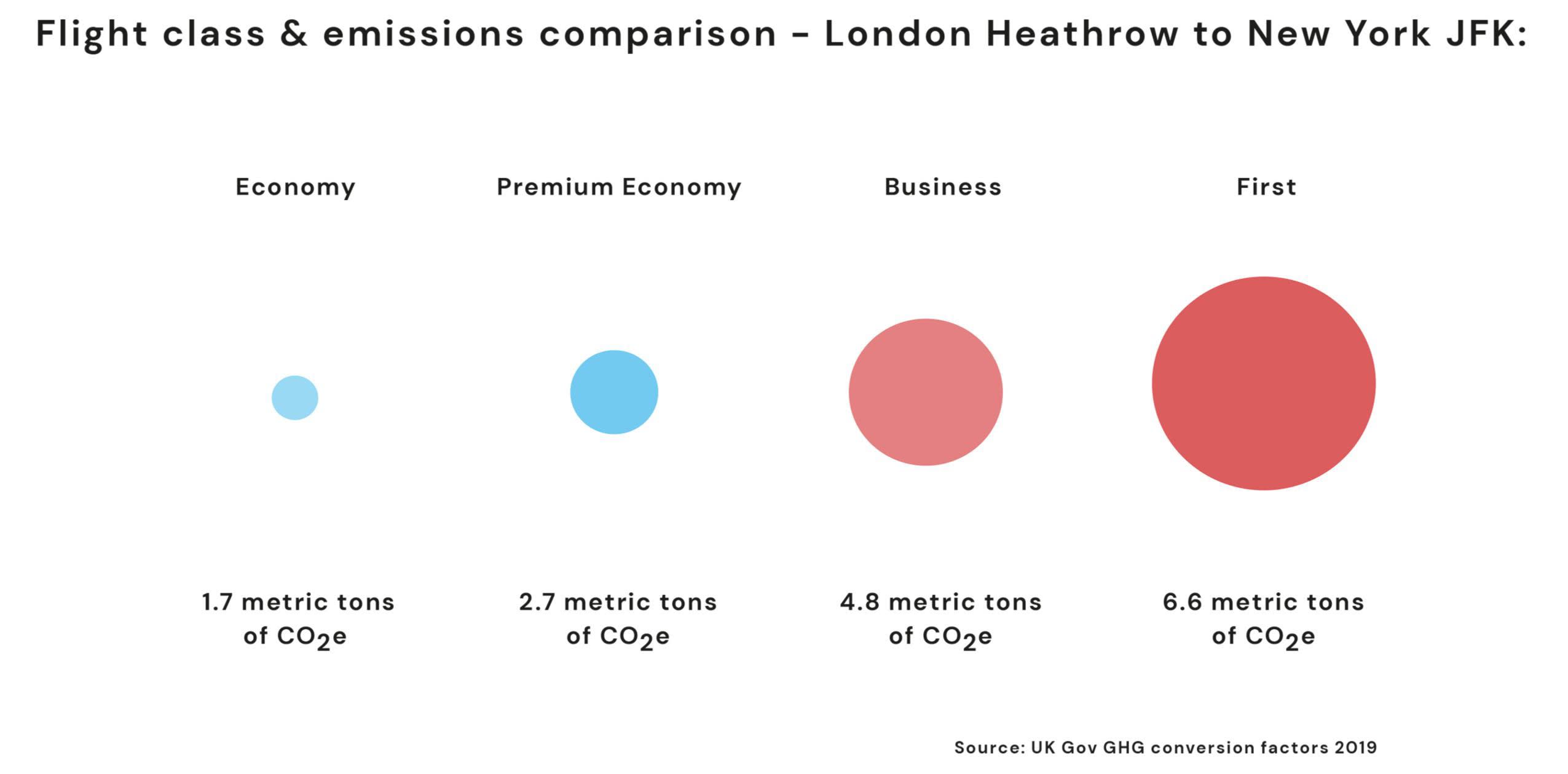 Get Co-ordinated
Emissions are reduced if flights are direct. Advance planning can reduce the number of flights needed to be made. Examine travel schedules and for instance, while participating in an art fair in the US, combine with other necessary visits within that country.
ALTERNATIVES TO FLYING
Video conferencing has become a viable alternative and should be considered where possible for meetings, discussions, interviews etc.

If possible it is important to avoid short haul or internal flights that can otherwise be reached using train, boat, or electric car travel

Lift-sharing is a carbon saving (especially if the car is electric/hybrid) and economical way to travel. Numerous services operate across the world.
Consider travelling by rail.
Rail is the fastest alternative to flying and is an excellent alternative in moving both people and materials. For example, comparing three different options for travelling from London to Basel returns three widely divergent results:
London, United Kingdom - Basel, Switzerland (572.7 miles)
| | | | | |
| --- | --- | --- | --- | --- |
| | Flying to Basel (Economy) | Flying to Basel (First) | Train to Basel | Coach to Basel |
| Time | 1 hour 40 minutes | 1 hour 40 minutes | 6 hours 35minutes | 16 hours 45 minutes |
| Carbon | 110 kgCO2e | 170 kgCO2e | 3.4 kgCO2e | 14 kgCO2e |
This data demonstrates that travelling from London to Basel via train produces only 3.4 kg of CO2e, compared with 110 kg of CO2e by a single person flying economy. With just a slight increase in journey time, there is a substantial carbon saving.
LOCAL TRAVEL
Long-distance and air travel make up the bulk of carbon emissions, but it is worthwhile analysing how colleagues travel to work, and to encourage cycling, public transport, or working form home.

Cycle to work initiatives and providing bike storage facilities enables employees to cycle to work.

If employers have cars or take taxis, choose electric or hybrid vehicles.

EFFECTIVE ACTIONS
The greatest impact is not to fly, however there are compromises that can reduce the carbon created by business travel:
Wherever possible, do not fly.
Fly direct and economy.
Plan travel schedules as far in advance as possible and set a quota for the maximum number of flights you can take in a given year and adhere to it!
Organise business trips back-to-back.
Travel by train or sea where possible.
Car-share where possible.
When travelling, use green accommodation. Certified Green Key establishments have been awarded the Green Key. This eco-label represents a commitment that their premises adhere to the strict criteria set by the Foundation for Environmental Education.
Make it easier for employees to cycle in to work by providing bike storage space and join cycle to work initiatives.