Travel: Effective Actions Back to Resources
Travel
Based on GCC Carbon Reports, international air travel is typically the largest contributor towards the carbon footprint of an average sized arts organisation.

Finding alternatives to flying is an achievable and positive step in reducing our carbon footprints, and there are obvious economic benefits to reducing travel overall.

Attitudes towards air travel need to be reassessed and only the most crucial and worthwhile journeys should be made. Flying is a high impact activity and should therefore not be considered as something that can be done without considering the consequences.

On average, sitting in an economy seat on a flight equates to the traveller being responsible for 4-5 times less carbon being emitted than by travelling in a first class seat.

It is important to note that whilst long-distance flights produce more absolute carbon, short-haul flights have a greater relative impact. This is because they spend less time at cruising altitude and the biggest moments of carbon expenditure are at take-off and landing.

With some countries moving towards

taxation on aviation fuel

, flying is set to become increasingly costly and it is therefore worth finding alternative modes of transport and transit at this stage.

While there are

promising examples

of

technological innovations

that would make travel less carbon intensive, it is unlikely that there will be any commercially viable green alternatives to flying in the next decade.

For now, the most effective solution is to reduce air travel as much as possible.
Introduction
As an international community, the working patterns of the art-world can be seen to be closely related to global travel and relations.
Based on GCC Carbon Reports, air travel can be clearly identified as making up a large proportion of the carbon footprint of many art organisations.
With a lack of viable alternatives to air travel for long distance journeys, the focus has to be on reducing the number of flights taken annually. The Covid pandemic has shown that it is possible to operate effectively on an international scale whilst reducing the need for travel.
For some journeys, access to high-speed international rail services makes this a practical, effective and underexplored solution to the problem.
For businesses and organisations within the art world to align themselves with the goals of the Paris Climate Agreement, reliance on air travel needs urgent reassessment. A shift in behaviour is required with a focus on only essential journeys being carried out through flying.
Air Travel
Travelling by air is the single most carbon-polluting action you make as an individual, as it puts a large amount of greenhouse gases into the air in a short space of time. On top of this, burning aviation fuel at high altitudes means air travel causes a larger amount of global warming than other forms of travel - this is called Radiative Forcing.
It's worth noting that, whilst long-distance flights produce more absolute carbon, short-haul flights have a greater relative impact. This is because they spend less time at cruising altitude and the biggest moments of carbon expenditure are at take-off and landing. The necessity of both long and short-haul travel should therefore be reassessed.
On average, sitting in an economy seat on a flight equates to the traveller being responsible for 4-5 times less carbon being emitted than by travelling in a first class seat. This is because first class seats take up more space, so fewer travellers can fit in one airplane.

Globally, flying is still the preserve of a minority with less than 10% of the global population boarding planes annually. Even in the UK, 15% of the population take 70% of the flights. More than half of the UK population do not fly in a "normal" (pre-COVID) year. These figures have been getting more dramatic, with flights among the wealthiest growing faster than the rest of the population.

By analysing Carbon Reports produced by the GCC's Carbon Calculator, it's clear that air travel takes up a large proportion of most galleries and art businesses' carbon footprints.



Alternatives to Air Travel
Operating Remotely
The Covid-19 period has taught us that businesses can achieve great things whilst working remotely without the need for travel. Video conferencing has become a viable alternative for meetings, discussions, and interviews. Exhibitions have been successfully installed with artists and curators instructing third parties how to hang and present works. Sales platforms, experiencing exhibitions virtually and talks programmes have also proved to be able to operate successfully online.

Here, you can watch a remote exhibition installation at M+ in Hong Kong. Working across three time zones, and via video conferencing, artist Shirley Tse (based in LA) and guest curator Christina Li (based in Amsterdam) worked with the installation team in Hong Kong to install Shirley Tse: Stakes and Holders.
Train Travel as an Alternative to Flying
Rail travel is the fastest and most practical alternative to flying. It can also be a less stressful and more productive way to travel.
Many people consider flying as the only quick solution to travelling but with careful planning this does not have to be so. If you factor in the time it takes to travel to and from airports, alongside time spent in transit in an airport, the time difference between a short haul flight and a long distance train journey can be negligible.
In well connected places such as Europe, America and parts of Asia, short-haul or internal flights can be replaced by train travel which produces a fraction of the emissions compared to flying.
For example, comparing three different options for travelling between London and Basel produces widely divergent results. This data demonstrates that travelling from London to Basel via train produces only 3.4 kg of CO2e, compared with 110 kg of CO2 from a person flying in an economy seat. With just a slight increase in journey time, there is a substantial carbon saving.
| | | | |
| --- | --- | --- | --- |
| | Flying London > Basel (Economy) | Flying London > Basel (First) | Train London > Basel |
| Time | 1 hour 40 minutes | 1 hour 40 minutes | 6 hours 35minutes |
| Carbon | 110 kgCO2e | 170 kgCO2e | 3.4 kgCO2e |
Future Technologies
There are promising examples of low-carbon technological innovations that could radically transform travel. However, it is unlikely that these proposed alternatives will be commercially viable within the 2030 timeline. Unfortunately, mitigating emissions from air travel is fraught with difficult issues, and each potential solution comes with its own substantial barriers to adoption.

The changing of government and consumer attitudes will inevitably accelerate innovation. There are likely to be future breakthroughs in this area. Similarly to carbon capture technologies, these cannot be relied on to have a significant positive impact until operating at scale. This is highly unlikely to happen in time to help meet the urgent targets demanded by climate science. So for now, the focus must be on reduction.
External Tools
If booking your own train travel, the Trainline is a helpful booking platform. GCC members have also recommended The Man in Seat 61 as a good place to start. This is an exhaustive resource, providing information on the best routes, fares and times for journeys between and within many countries in the world.
Born out of the pandemic, Articheck's Virtual Courier service could help art organisations make carbon savings every year. Articheck estimates that the carbon footprint of traditional couriers is at least 5,500 times higher than the carbon footprint of Virtual Courier. Read more about the service and how the Design Museum recently saved 2 tonnes of CO2 by using the service here.
Atmosfair, a German non-profit organisation that works to mitigate CO2 production, has produced a Flight Emissions Calculator that allows users to compare the carbon emissions between different airlines and flight routes. For example, by using the Flight Emissions Calculator, GCC found that the emissions associated with a flight from Paris to LA could be cut by over 50% by choosing to take the train from Paris to London, depart from Heathrow, and fly with Norwegian Airlines.
(Note that Atmosfair uses different methodology to the GCC carbon calculator and will not give the same carbon numbers as GCC's online tool. However, it is a useful resource for - as a last resort - finding flights on the most efficient planes available on a given route).
Changing Travel Habits
"Once you change a habit, maybe for sustainability reasons, then new doors open up. From a work efficiency perspective, you realise this is actually better. The idea of travelling by train has an image of being less efficient, but now, with laptops and the internet, you can turn the train into your office. It doesn't feel as easy to work on a plane." - Tino Sehgal
If you haven't travelled internationally via train before, it may not appear, at first, to be a practical alternative. However, it is often faster and cheaper than you'd expect. As trains take you from city centre to city centre, the net travel time can be similar to a plane journey, if you factor in airport transfers and check in times.
When booked in advance, cheap rates are available for international train journeys and are comparative to airline prices.
With wifi and power sockets available on most trains across the world, the productivity of train travel should also be factored into decision making. GCC spoke with Tino Sehgal and Louise Hojer about their experiences of low carbon travel and thoughts on shifting our concept of efficiency and changing travel habits. Could an 8 hour train journey from London to Milan be treated as a day in the office?
Stop-overs can also be productive. For example, if you were travelling from London to Basel, could you plan meetings/visits during a stopover in Paris or Brussels?
Speak with your travel agent about the possibilities of train travel, and try to book as far in advance as possible to get the best rates.
GCC acknowledges that not all areas of the world have access to high speed, reliable rail networks and that travelling via train may not be a realistic alternative for all members. This makes reducing emissions from travel more difficult. GCC plans to host open discussion events for the collective consideration of solutions to this issue. Get in touch if you have thoughts on this issue, or would like to take part in the discussion: info@galleryclimatecoalition.org
10 Steps to Limit the Impact of Air Travel
As the most polluting activity a single individual can do, flying must always be a last option, after exploring all alternatives. If you have to fly, there are ways to help cut emissions.
1. Be conscious
Be aware of the alternative travel options available and plan as far in advance as possible to make use of these options.
2. Set targets
Based on your Carbon Report Findings, set a quota for the maximum number of flights your organisation can take in a given year.
3. Combine trips
Advance planning can reduce the number of flights needed to be made. Examine travel schedules and combine trips wherever possible. For example, if taking a long-haul flight to Basel - could you combine this trip with several other destinations in Europe, and make use of train services to travel between them?
4. Fly a smaller team
When attending art fairs or other international events, review the number of staff that need to travel. Consider hiring technicians and sales reps local to the destination.
5. Fly economy
A substantial difference to the carbon footprint of a flight can be made by choosing to fly economy, rather than business, first class or premium economy. For example, flying first class on BA results in a footprint that is approximately 4-5 times larger than that of an economy passenger. This is because a first class passenger takes up a larger percentage of the plane's space and resources (including the space taken by catering facilities etc), and so is responsible for a larger percentage of the flight's emissions.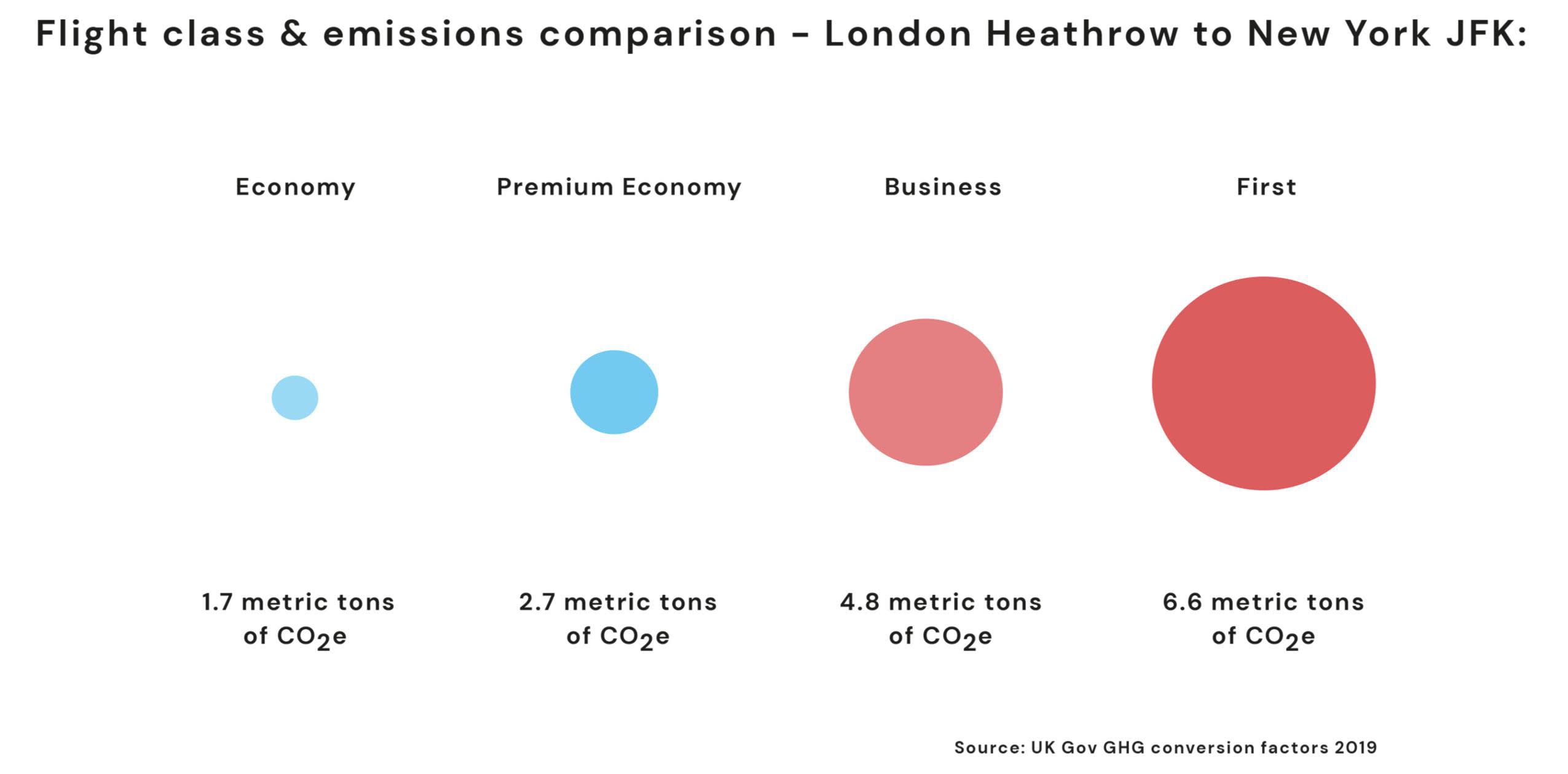 6. Fly direct
Emissions are reduced if flights are direct. This is because a large amount of the CO2e is produced during take off.
7. Use a Flight Emissions Calculator to find the least polluting option
Not all flights pollute at the same rate. If a plane is new and more fuel efficient, is at full passenger capacity, and also carries cargo, its carbon emissions per person can be up to 50% lower. Use Atmosfair's Flight Emissions Calculator to compare the carbon emissions between different airlines and flight routes.
8. Before you offset
Many airlines offer the opportunity to 'offset' emissions at the point of purchase. However it is often unclear where this money goes and how effectively it is spent. In recent years, conventional carbon offsetting has come under scrutiny for its lack of effectiveness.
To find out more about the concerns around offsetting, read the GCC Commissioned Report on Offsetting and a Better Alternative.
Instead of offsetting, GCC recommends funding projects that will have an immediate and significant strategic impact. These schemes are called 'Strategic Climate Funds' (SCFs). Such projects will not make emissions disappear, but they are a way to take responsibility for greenhouse gases that are difficult to cut, and will help accelerate wider systemic change within the 2030 timeline.
9. Communicate
Educate colleagues about the environmental impacts of air travel, and the alternative options. Share these criteria with travel agents. Inspire others to do the same - if taking the train to an art fair, invite colleagues and peers to do likewise.
10. Advocate
Advocate for change if local infrastructures don't offer viable alternatives to air travel. Speak to local politicians about goals for carbon reduction and the need for investment in infrastructure. Contact transport operators and state preference for low carbon services.
Local Travel
Long-distance and air travel usually make up the bulk of carbon emissions for an arts organisation, but it is also worthwhile to analyse how colleagues travel to work, and to encourage cycling, public transport, or to consider working from home where appropriate.
Commuting isn't included in the GCC carbon calculator as its footprint is hard to measure (without carrying out a detailed staff survey) and it isn't under the direct control of the organisation. However, if a large percentage of your staff are driving to work every day, this will add up to a significant carbon footprint, and there are steps that you as an employer can take to make it easier for your staff to make more carbon-friendly choices.
Meanwhile, local journeys taken for business purposes are included in the carbon calculator, and will start to make up a more significant share of the organisation's footprint if you are successful in reducing your flights
Cycle-to-Work initiatives and opening up the possibility to acquire bicycles and facilities that enable employees to cycle to work.
If taking cars or taxis, choose electric or hybrid vehicles.
Lift-sharing is a carbon saving (especially if the car is electric/hybrid) and economical way to travel. Numerous services operate across the world.
Effective Actions
Wherever possible, do not fly.

Travel by train or sea where possible.

If you do have to fly, follow the 10 Steps to Limit the Impact of Air Travel.

Plan travel schedules as far in advance as possible and set a quota for the maximum number of flights you take in a given year. Adhere to it!

If possible, plan for international exhibitions to be installed remotely, without the artists and external curators.

Organise back-to-back meetings to maximise the efficiency of business trips.

Car-share where possible.

When travelling, use green accommodation. Certified Green Key establishments have been awarded the Green Key. This eco-label represents a commitment that their premises adhere to the strict criteria set by the Foundation for Environmental Education. GCC will be expanding resources on this in the future.

Make it easier for employees to cycle into work by providing bike storage space and join cycle to work initiatives.

Aim to locate any new premises in areas with good public transport/cycling links, to help reduce the carbon footprints of your staff and visitors.
Further Reading
Atmosfair: Flight Emissions Calculator
Helsinki International Artist Programme's Connecting Points programme